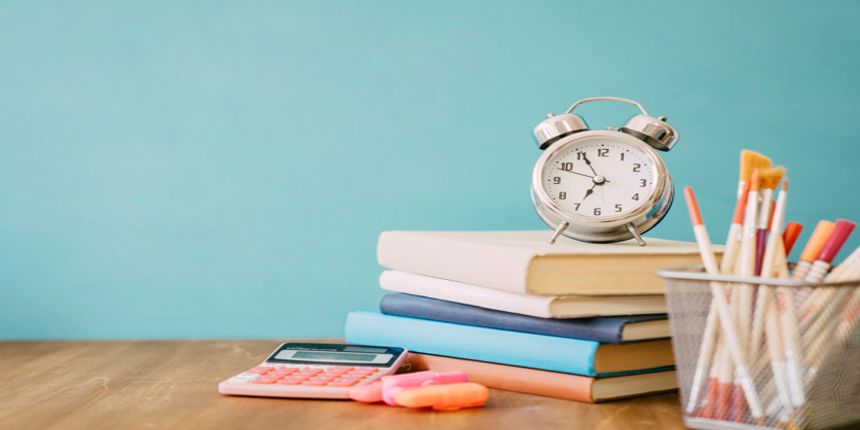 GPAT 2019 - The Graduate Pharmacy Aptitude Test (GPAT) is a national level examination which acts as a gateway to some of the top institutes offering M.Pharm. The GPAT 2019 scores will also allow NTA to provide scholarships and other forms of financial aids (in the field of Pharmacy) to deserving candidates. GPAT 2019 was conducted by the National Testing Agency (NTA) on January 28. Candidates could submit the application form of GPAT 2019 from November 1 till December 7, 2018. GPAT 2019 was held on online mode for a duration of three hours. Future GPAT aspirants can read below to find out some tips and tricks that will help them ace this highly competitive exam with ease!

Latest: GPAT 2019 result, All India Merit listand GPAT 2019     Latest: Answer key announced on February 6  
| | |
| --- | --- |
| Events | Dates |
| Announcement of GPAT application form 2019 | November 1, 2018 |
| Last date for submission of GPAT 2019 application form | December 7, 2018 (11:50 PM) |
| Last date for uploading documents and making fee payment | December 8, 2018 (11:50 PM)         |
| Availability of GPAT admit card 2019 | January 7, 2019 |
| NTA GPAT 2019 (online) | January 28, 2019 (2:30 PM- 5:30 PM) |
| Declaration of GPAT result 2019 | February 6, 2019 |
Candidates must be familiar with the exam pattern of GPAT 2019 so that they can prepare for the exam accordingly:
Exam duration

3 hours

Exam mode

Computer Based

Type of questions

Objective MCQs

Number of questions

125

Maximum Marks

500

Marking scheme

+4 for every correct answer

-1 for every wrong answer
Candidates must know the GPAT 2019 syllabus to before starting their preparation. This will ensure that they do not waste time on learning topics that will not be examined. Check the list below to know the subjects covered in the syllabus of GPAT 2019:
Pharmacology
Physical Chemistry
Physical  Pharmacy
Organic Chemistry
Dispensing and Hospital Pharmacy
Pharmaceutical Chemistry
Pharmaceutical Jurisprudence
Pharmaceutical Management
Pharmaceutics
Pharmaceutical Engineering
Pharmacognosy
Human Anatomy and Physiology
Pharmaceutical Analysis
Clinical Pharmacy and Therapeutics
Biochemistry
Biopharmaceutics and Pharmacokinetics
Biotechnology
Pathophysiology
Microbiology
How to prepare for GPAT 2019?
When it comes to cracking an important exam like GPAT 2019, the quote, "There is no shortcut to success" holds true. Candidates must be hard working, diligent and committed towards achieving a good GPAT 2019 score. Read below for some studying mantras that candidates must follow:
Pharmacology holds a lot of weightage in GPAT question papers. Uses, mechanisms and unique side effects of various drugs must be read and remembered. Candidates can make use of abbreviations to remember the names.

Numerical questions must be practiced every day. Most of the numericals are based on depression in freezing point, biopharmaceutics, dose on the basis of body weight and age, and alligation method. 

While practicing numericals, candidates must ensure that they remember the formulae by heart. 

From Pharmaceutical Chemistry, the most weightage is given to Organic Chemistry. 

Focus on understanding the effects and uses of drugs like Senna, Vinca and Morphine as questions based on these have been asked frequently in the past years.

Mass spectrometry, NMR spectroscopy, IR and UV are topics which have been covered in the question papers frequently. Candidates must ensure that they have these topics on their fingertips.

Questions about herbal and indigenous drugs are asked often, making it a vital topic for preparation.

Candidates must go through Pharmacognosy in detail and make short notes or flashcards. These will help candidates in revising during the last days of preparation when no one has the time to read each and every word of every chapter. 
GPAT 2019- Expert Advice
When it comes to finding out some mantras for efficient GPAT 2109 preparation, it is always best to know it from the experts. Hence, we asked Sanjar Alam, Assistant Professor, KIET School of Pharmacy, to share some tips and tricks that students must incorporate into their studying schedule:
If someone has less time for preparation, he/ she should focus on the five main papers namely Pharmaceutics, Pharmacology, Pharmacognosy, Pharm Analysis, and Pharmaceutical chemistry with special emphasis on organic chemistry.

Each year five numerical questions are being asked in GPAT. So students should practice the numerical questions from Pharmacokinetics, Alligation Method, Posology, Proof Spirit, Kinetics, Micromeritics, Rheology, Surface Tension and Analysis (NMR, UV-Visible and IR).

More than 20 questions from organic and physical chemistry are asked in the exam. Hence, students should not ignore these topics just because they have studied them in 12th standard.

Based on the rank in GPAT 2019, the students will get the admission in different branches of M. Pharm via through counseling in BHU, UICT MUMBAI, DIPSAR, PUNJAB UNIVERSITY. For seeking admissions in other top universities students have to appear for the entrance exams of the following universities:
1. NIPER
2. Sagar University
3. Jamia Hamdard
4. Manipal (GPAT qualification not needed)
5. Narsee Monjee (GPAT qualification not needed)
6. BITS Pilani (GPAT qualification not needed)

Work hard and most importantly complete your syllabus on time and build your concept. Concentrate more on the main papers and keep time for revision. Always try to practice questions after you've studied a particular topic. There is no shortcut to success.
With truckloads of options in the market, it is natural for GPAT 2019 aspirants to get confused over which book to refer. Since the right choice of books makes a huge difference in one's GPAT 2019 score, given below are the best books for GPAT:
GPAT: A Companion
Publisher-Career Publications
Author- Nazma N. Inamdar

GPAT Cracker (2017)
Publisher-Piyush Book Publications
Author- Dr. Sanjar Alam and others 

Synopsis for GPAT
Publisher- Dhawan Book Publication
Author- Dr. Surendra H. Bodakhe, Dr. Sanjay Gupta, Prof. Vijay Juyal Dr. Munish Ahuja

The Pearson Guide to GPAT and Other Entrance Examination in Pharmacy
Publisher-Pearson Education
Author- Akaberi Shah Baser

Compete Pharma (A Guide For Preparation Of GPAT/NIPER/BITS/CEEB/CET And Other Pharma Competitive Exams)
Publisher-Altbs Publishers
Author- Tarun Kumar Das
Subject-wise books for GPAT 2019
| | | |
| --- | --- | --- |
| Subject | Name of the Book | Author |
| Biochemistry | Biochemistry | Lehninger or Satyanarayan |
| Physical Chemistry | Physical Chemistry | Dr. R. R. Misra |
| Organic Chemistry | Advance Organic Chemistry: Reaction, Mechanism & Structure | Jerry March |
| Basics of Pharmaceutical Sciences | Health Education & Community Pharmacy: For First Year Diploma | N. S. Parmar |
| Pharmaceutics | Pharmaceutics: The Science of Dosage Form Design | Aulton |
| Pharmacognosy | Textbook of Pharmacognosy | K. Kokate |
| Microbiology | Industrial Microbiology | Cascida |
| Pharmaceutical Analysis | Instrumental methods of Chemical Analysis | B. K. Sarma |
GPAT 2019: Previous year's Exam Analysis
According to GPAT 2018 candidates, the paper turned out to be more difficult than expected. The difficulty level of the questions was moderate-difficult. The difficulty factor of GPAT 2018 came to fore due to the similar and confusing answer options. However, the time limit was sufficient as some candidates even had time left to revise their answers. 
Questions related to GPAT