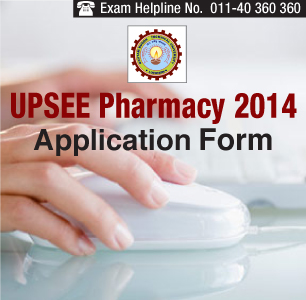 UPSEE Pharmacy 2014 Application Form -Candidates can fill for UPSEE Pharmacy 2014 either online of offline mode. UPSEE Pharmacy 2014 Application Form is available from March 15, 2014 and the last date of applying for UPSEE Pharmacy 2014 is April 5, 2014. The last date of completed offline UPSEE Pharmacy 2014 application form should reach UPTU office by April 7, 2014. UPSEE Pharmacy 2014 will be conducted by the Uttar Pradesh Technical University on April 20, 2014.


To apply for UPSEE Pharmacy 2014 Application - Click Here

UPSEE Pharmacy 2014 examination fee is Rs 1000 candidates belonging to General/OBC category and Rs 500 for candidates from SC/ST category.


For queries and doubts, call UPSEE Pharmacy 2014 Exam Helpline at 011-40360360

NOTE: Enroll Now for the Pharmacy course from Lovely Professional University


UPSEE Pharmacy 2014 Application Form Procedure:
Candidates have to select mode of filling UPSEE Pharmacy 2014 Application Form i.e. Offline Application form (Help Desk) or Online Application Form

UPSEE Pharmacy 2014 Offline Application Form is available from March 15, 2014 to April 5, 2014 at designated Help Desks (Affiliated Institute of UPTU). Click Here to find out designated Help Desks (Affiliated Institute of UPTU) located in various places in Uttar Pradesh.

Candidate has to fill-in all asked information such as candidate contact details, qualifying examination details, choice of city for examination, category/sub category of candidate seeking admission for and course applied for

Candidate to fill UPSEE Pharmacy 2014 online application form has to opt for online applications option. For candidate, who opts for filling UPSEE Pharmacy 2014 offline Application Form (Help Desk) mode has to chose desired location from the options provided in dropdown list of place of filling application form

On successful submission of all the above asked information, a registration number will be generated. Candidate is required to note this number for all future correspondence

Candidate has to pay applicable examination fee through bank challan or credit/ debit card. UPSEE Pharmacy 2014examination fee will be Rs 1000 for candidates belonging to General/OBC category and Rs 500 for candidates belonging to SC/ST category
UPSEE Pharmacy 2014 Application Fees Payment Mode:
Payment through Bank-Challan - Candidate opting to pay through bank challan has to generate and download the challan slip from the option given for it. Candidate has to take the challan along with his/her signature and the requisite fees to the designated bank for the payment of examination fee. A transaction number will be provided to candidate on submission of fee by the bank.  Candidate is required to note this transaction number for all future correspondences.

Payment through Credit Card / Debit Card - All VISA/Master cards are accepted for online payment of applicable examination fee through credit card / debit card. After, the online payment, transaction number will be generated on the same day itself.
Uploading scanned images of the Photograph, signature and thumb Impression:
Candidates must upload the scanned images of the passport size colour photograph, signature and thumb impression on  specified places of UPSEE Pharmacy application form

After uploading, candidates can print the confirmation page

Online Payment Candidates can upload their images immediately

PNB challan Payees must wait till the 3 or 4 day from date of submission of details to upload the images.
Printing of the Confirmation Page:
Candidates must print two copies of the UPSEE Pharmacy 2014 Confirmation Page

Candidate must keep one copy for themselves while the other must be sent to the University
Sending the 'Confirmation Page' to the University
Candidates must paste a recent passport size photograph (identical to the scanned image) in the specified place in the UPSEE 2014 Confirmation Page

They must put their signature & thumb impression (left thumb) in the designated place in the Confirmation Page of UPSEE Pharmacy 2014 

Signature of the parent/ guardian signature at the space provided on the confirmation page is mandatory.
Note: The confirmation Page for UPSEE 2014 must reach before 4 pm on April 7, 2014
Candidates must send completed UPSEE Pharmacy 2014 Confirmation Page along with copy of challan (if the payment is made through bank challan) by Speed Post or Registered Post to
The Registrar (UPSEE-2014),
Uttar Pradesh Technical University,
IET Campus, Sitapur Road,
Lucknow – 226021, Uttar Pradesh
Stay tuned to pharmacy.careers360.com for more news and articles on UPSEE Pharmacy 2014 Entrance Exam
UPSEE Sample Paper
Download Free Sample Paper for UPSEE
Download Now