GPAT 2021 Topper Interview: Gourav Gupta, AIR 1
GPAT 2021 Topper Interview: Gourav Gupta, AIR 1 - The declaration of GPAT result 2021 filled a feeling of vibrancy and joy among the GPAT topper Gourav Gupta and his family. Gourav Gupta bagged AIR-1 in GPAT 2021 entrance exam with 359 marks out of 500.
UPDATE: GPAT 2022 result announced: Download scorecard!
Stay up-to date with GPAT News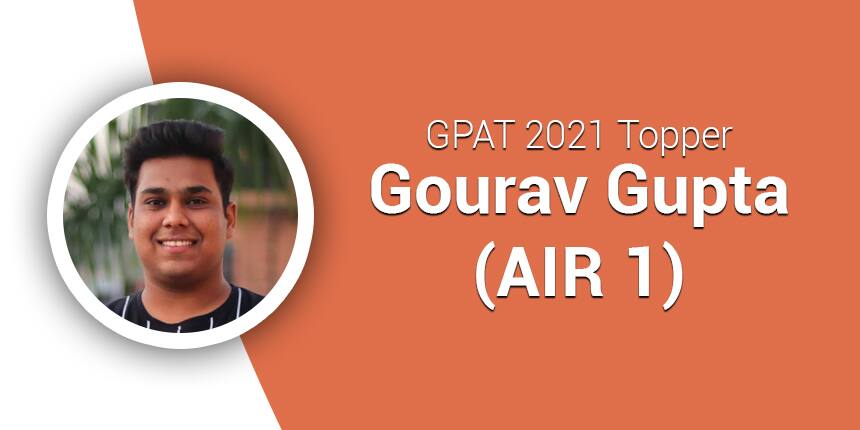 A Bachelor of Pharmacy (BPharm) graduated from DIPSAR, Delhi, Gourav Gupta, the topper of GPAT 2021, competes with himself to grow better every day. Gourav's curiosity for Chemistry, Biology and the right guidance from his teachers helped him to be a GPAT topper 2021.
His belief, planning, proper execution of plans, dedication, regularity, and focus are the factors he attributes his GPAT success to. Cherishing the moment of joy, Gourav Gupta has a fascination for cooking and dancing. Read the full interview of Gourav Gupta, GPAT topper 2021 to know his journey of preparations and marvellous success.
8 min read
Mar 05, 2022
Read More
12 min read
Mar 05, 2022
Read More
Popular Online Pharmacy Courses and Certifications:
GPAT 2021 topper interview - Gourav Gupta, AIR-1
Careers360: Congratulations on emerging as a GPAT topper! How are you feeling about being a GPAT 2021 topper?
Gourav Gupta: Thanks a ton. I got to know my GPAT result 2021 around 9:30 PM when my sir called me. I was very happy to know that I am a GPAT topper with All India Rank, AIR-1. I always dreamed of AIR 1 and I was so excited to see my dream come true. My parents and teachers are very proud of me.
Careers360: Tell us something about yourself. Family, Schooling, ambitions etc
5 min read
Mar 05, 2022
Read More
4 min read
Mar 05, 2022
Read More
Gourav Gupta: I have been born and raised in Gurugram, Haryana. We are three members in the family including my mother, and an elder sister. I have done my schooling at S.N. Sidheshwar Public School, Gurugram. In 2017, I took admission to the Delhi Pharmaceutical Sciences and Research University (DIPSAR), Delhi under B.Pharm course. I want to further pursue my career in the Pharmaceutical Research field where I will get the opportunity to work for the betterment of our society.
Transform your Career with Popular Online Pharmacy Courses and Certifications:
Careers360: Could you share with us your overall and subject-wise score in GPAT 2021?
Gourav Gupta: My overall GPAT 2021 score is 359 out of 500.
Careers360: What factors would you attribute your success to?
Gourav Gupta: I would like to mention some important factors that attribute to my success in becoming GPAT 2021 toppers, which are:
Always believe in yourself

Planning

Proper execution of my plans

Dedication

Regularity

Focus

Considering myself the biggest competitor of mine
A perfect combination of these key factors helped me in the successful GPAT exam.
Student Also Liked:
Careers360: What motivated you to pursue Pharmacy as a career?
Gourav Gupta: Pharmacy is a profession with a combination of science, healthcare, direct patient contact, computer technology application and business management. A career in Pharmacy may offer many playbacks and opportunities. I always have a curiosity about Chemistry and Biology and this field is a combination of both. The diversity of career pathway that a Pharmacy course can offer is most fascinating for me to choose this profession.
Careers360: How did you prepare for GPAT 2021? What was your daily routine for preparations?
Gourav Gupta: I started my GPAT preparations in January 2020, when I joined the coaching. COVID-19 lockdown was beneficial for me as I could devote more time on how to prepare for GPAT 2021. In the first few months, I made notes of each subject, in which my coaching teachers helped me a lot, then I started revising topics.
In the beginning, I covered important topics like - Pharmacology, Pharmaceutics, Pharmacognosy and Pharmaceutical Chemistry. After every topic, I used to try MCQs related to that topic. After completion of a particular subject. I used to focus more on doing MCQs after that I keep on revising the GPAT syllabus 2021 and attempted all the test series allotted by my coaching experts. In the last month, I had solved the previous year GPAT question papers to get familiar with the exam pattern.
Careers360: Did you take any coaching? If yes, from where?
Gourav Gupta: Yes, I joined Pharma sapience coaching and I would like to give the whole credit for my success to the team of Pharma sapience.
Careers360: How much time did you devote to your preparation? What was your preparation strategy like? How did it differ as the exam day approached?
Gourav Gupta: In the initial days, I used to give 5 to 6 hours a day in making notes. In the last months, I gave 11 to 12 hours per day for revising and solving MCQ and as the exam came closer last I paid more attention to the things where I was lagging. Two days before the exam I tried to keep my mind relax for which I slept well and eat good and study only 5 to 6 hours a day.
Careers360: Name any notable books that were helpful in your GPAT preparation?
Gourav Gupta: I got help from the notes provided by Pharma sapience. Besides this, I preferred Inamdar for solving MCQ and standard book for GPAT like Lachman for Pharmaceutics KD Tripathi for Pharmacology.
Careers360: How did your family support you in your journey?
Gourav Gupta: Family support has been one of the key aspects of my success in being GPAT topper 2021. They always inspired me to keep going. They always take care of my health as good health is essential for hard work.
Careers360: What was your exam day strategy for all sections? Which section was the toughest and easiest, overall analysis of the GPAT exam?
Gourav Gupta: Unlike the previous year trend, the GPAT exam pattern of questions were different yet easy. I found the Pharmacognosy section easiest, Pharmaceutical Chemistry was average and Pharmacology was moderate this year. There were many questions from Pharmaceutical Analysis which also include numerical problems.
Student Also Liked:
Careers360: How did COVID situation affect your preparation? How did you prepare for the exam during COVID? What was the most striking thing during this preparation?
Gourav Gupta: Initially, it was very difficult for me to understand something because the world was completely stopped. When the online classes of Pharmasapience began it was very easy for me to plan my journey.
Careers360: How did you motivate yourself? What are your stress busters and how did they help in de-stressing during this preparation time?
Gourav Gupta: I think proper planning and dedication never leads to stress. I always tried to have a positive mindset and tried to break a task down into small steps because after that it became easy for me to achieve my goal - GPAT AIR 1 and achievement motivate me besides this I always took a break to get some rest and recharge my mind.
If I talk about my hobbies, I love cooking and dancing so I tried to devote time to my hobbies. I always used to take 8 hours of sleep in a day.
Careers360: What do you think the GPAT cut off for admission will be?
Gourav Gupta: I think this time GPAT 2021 cutoff will be higher and may be above 200 marks.
Careers360: Any particular college and specialization you have in mind for admission?
Gourav Gupta: I aim to secure a seat in NIPER Institute.
Careers360: Any message or advice for future MPharm aspirants in terms of GPAT preparation.
Gourav Gupta: I always advise future GPAT aspirants to have faith in themselves and make themselves their biggest competitor. Working hard regularly with proper planning and dedication is the key to success.
Also read:
Questions related to GPAT
Showing 427 out of 427 Questions