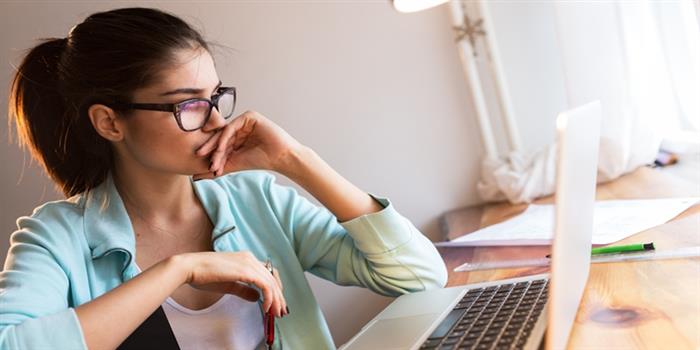 Highlights: GPAT application form last date extended to Dec 7. Apply Now
Admissions Open Now
Manipal Academy of Higher Educ..
Apply
GPAT Application Form 2019- Candidates who had filled NTA GPAT 2019 application forms could make corrections to uploaded images, if needed, from December 6, 2018, onward. To make corrections, one had to login to their registered accounts. National Testing Agency (NTA) had earlier extended the closing date of GPAT 2019 application form till December 7, 2018 (11:50 PM). However, candidates could continue uploading their scanned documents and make the payment of GPAT application fee till December 8, 2019 (11:50 PM). The GPAT application form 2019 was released in online mode on November 1, 2018. The online GPAT 2019 application form requires registration on behalf of the candidates followed by payment of application fees, filling of remaining details and finally submission. Only aspirants who meet specified eligibility criteria of GPAT were allowed to appear for the entrance test. Candidates were required to upload their recent photograph and signature in the given format. Complete procedure of filling GPAT application form 2019 including registration, filling form, fee payment and form submission can be checked on this page.
Latest: GPAT 2019 result, GPAT 2019 Answer key and Merit list published on February 6.
How to make corrections to uploaded images of GPAT 2019
Click on the image correction link given above

Select the application form (GPAT 2019 will be the default option)

Enter application number, password and security 

Click on Sign In button

After logging in, replace the uploaded image(s) with a correct image(s)
Check below all the important dates related to application form such as start and end date to fill application form.
Related to GPAT 2018 Application Form
| | |
| --- | --- |
| Events | Dates |
| Commencement of registration | November 1, 2018 |
| Image correction facility opens | December 6, 2019 |
| GPAT Registration deadline | December 7, 2018 (11:50 PM) |
| Last date to upload mandatory documents and pay the application fee | December 8, 2018 (11:50 PM) |
| GPAT Admit Card download from | January 7, 2019 |
| GPAT 2019 | January 28, 2019 (2:30 PM- 5:30 PM) |
What to keep ready before filling the GPAT Application Form?
Documents/ Details


Dimensions

File Size and Format

Photograph on a white background

140 x 160

Between 10 kb– 200 kb

JPEG/ JPG format

Signature on a white paper

60 x 90

Between 4 kb–30 kb

JPEG/ JPG format

Net Banking/Credit / Debit Card Details

Valid Email and Mobile No
Click Here to make corrections to make corrections to uploaded images of GPAT 2019 Application Form
Click here or fill GPAT Application Form from the window below:
How to Fill the GPAT Application Form 2019?

First and foremost, candidates need to click the link given above and select GPAT 2019 from the drop-down list next to 'Application Form' and click on 'Apply'. It must be noted that only new users have to apply for online registration. The rest can directly sign in.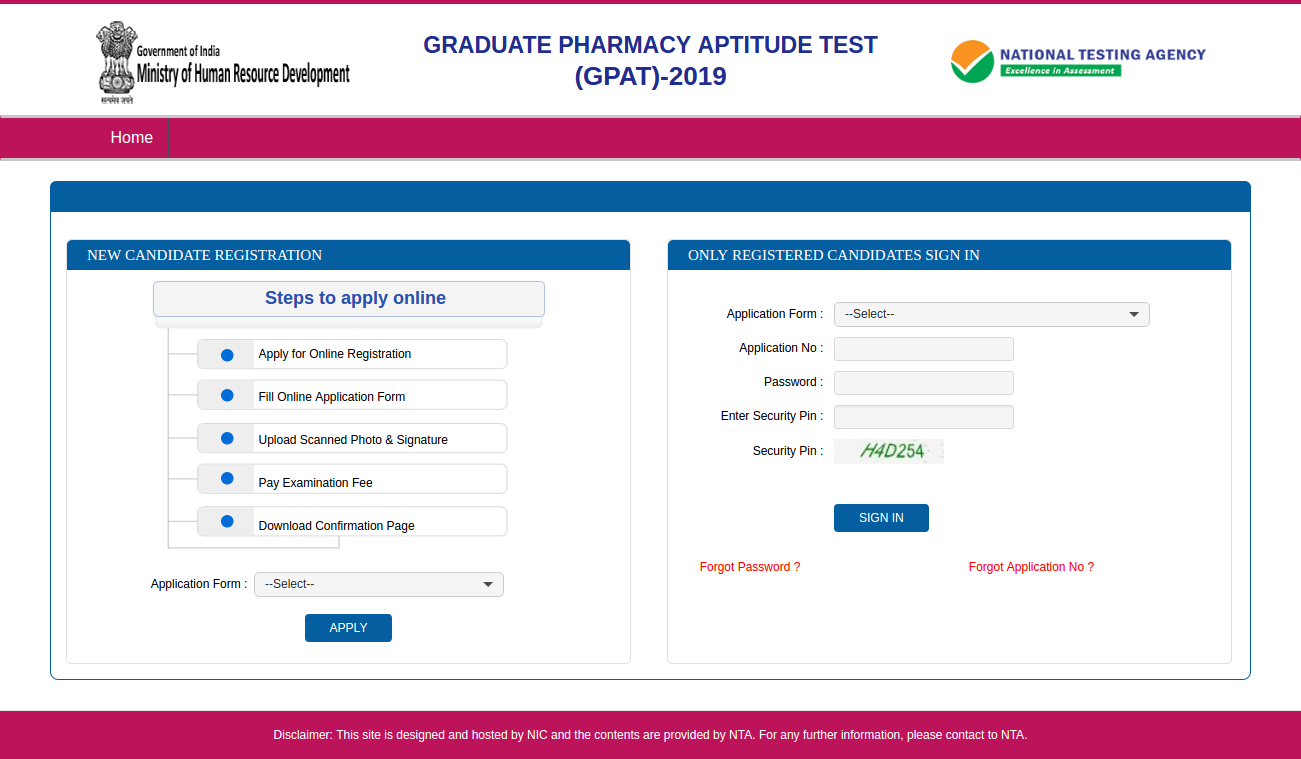 Refer to the full procedure of filling the GPAT 2019 application form given below:
Step 1 - Registration
Candidates are advised to download the information bulletin before registering for GPAT 2019.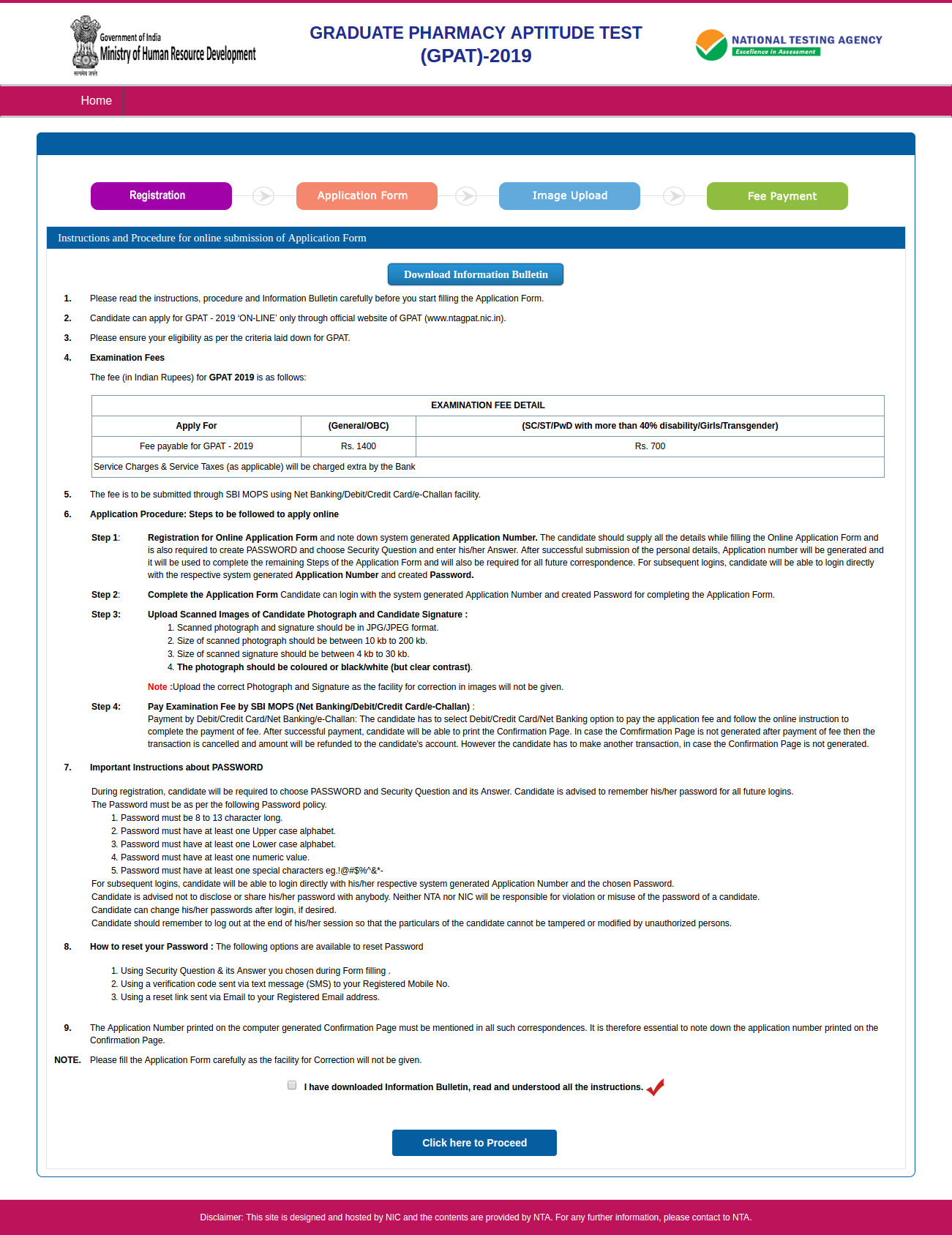 Enter your basic details like name, parents' names, DOB, gender, address, Email ID, Aadhaar number (or any other identity proof) and mobile number.
Next, create a new password, choose a security question and answer it.
After entering the security pin, hit 'Submit'.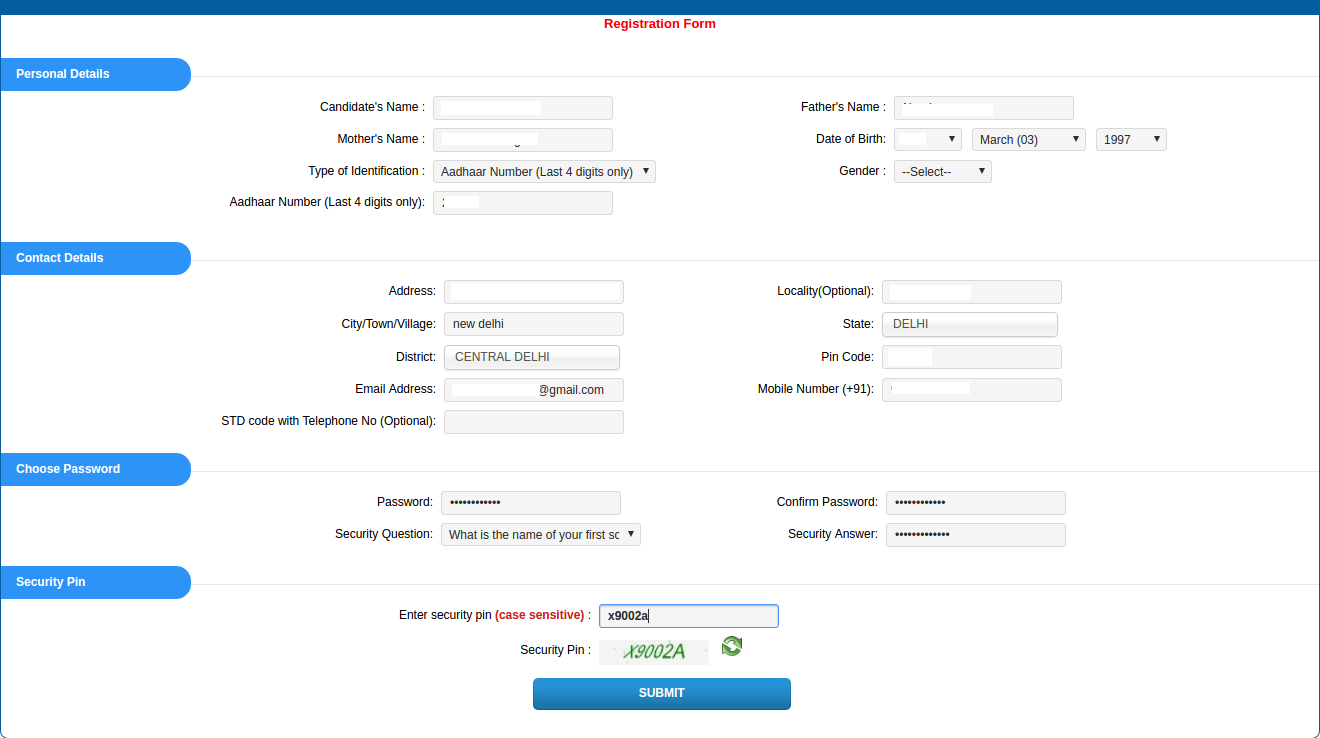 A window mentioning all the details provided by the candidate will be displayed onscreen. Verify the parameters listed at the bottom of the page.
Check the declaration and click on 'Edit Registration Form' or 'Final Submit', whichever is applicable in their case.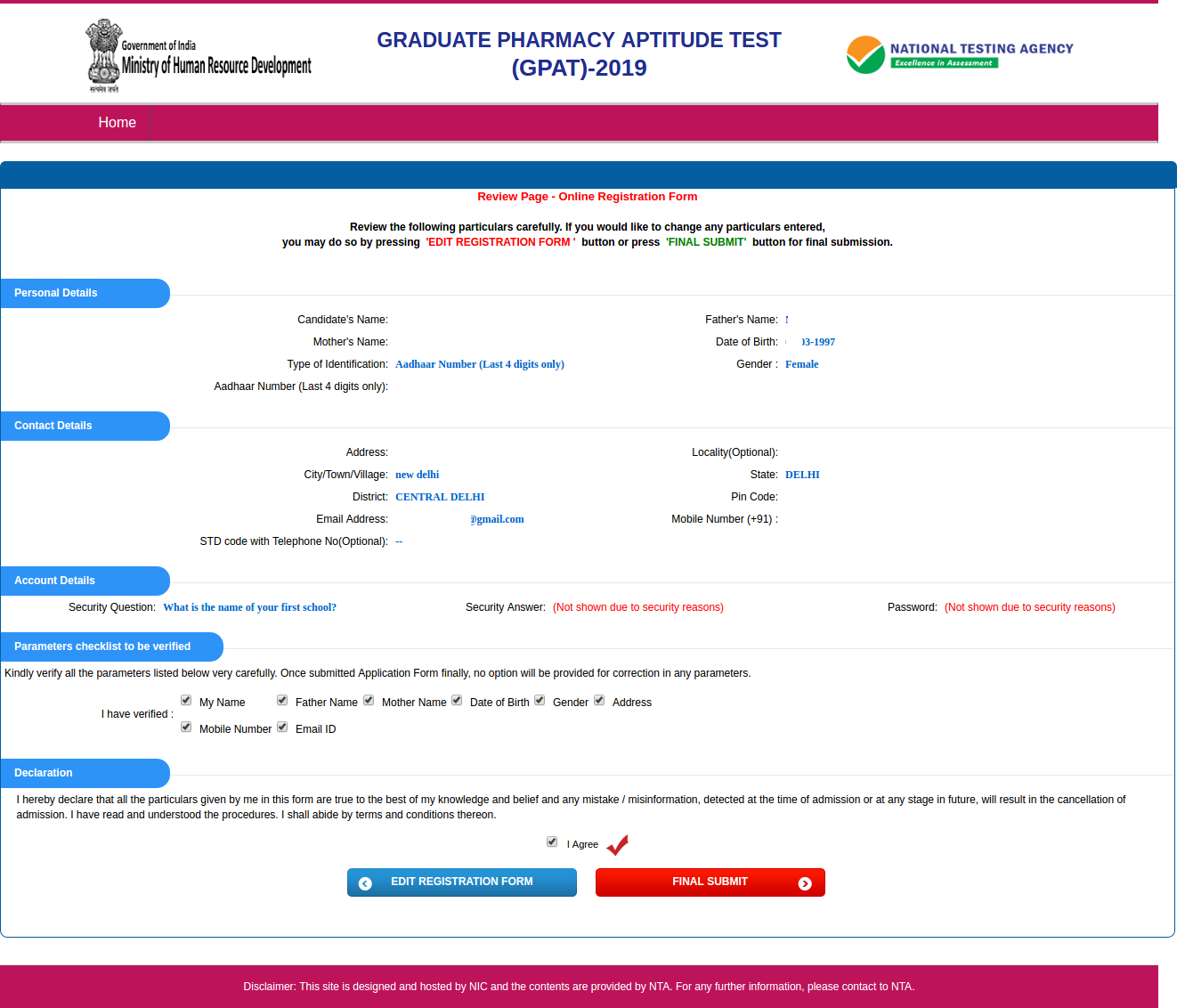 Another window prompting the completion of GPAT 2019 registration process will be displayed.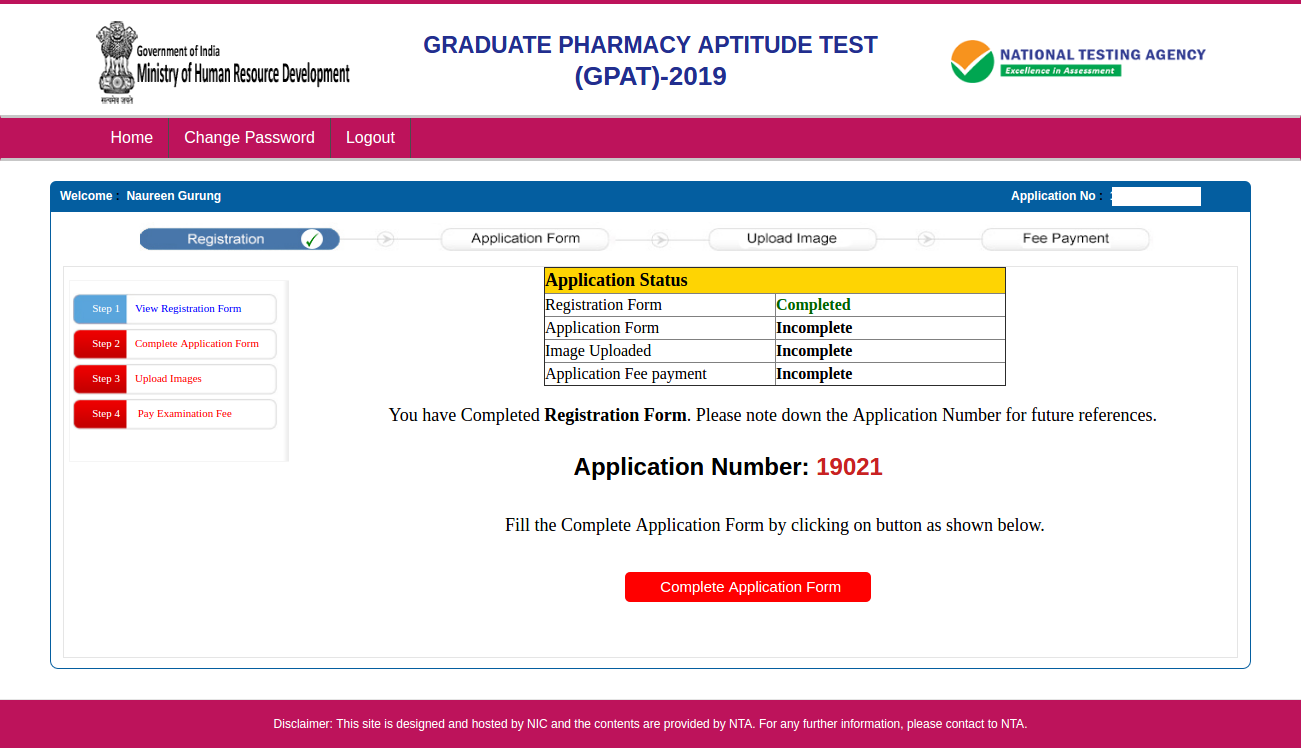 A unique 12-digit application number will be mentioned on the window. The same will be sent to the candidate via text and e-mail. Click on 'Complete Application Form' to proceed to the next step.
Step 2- Filling the GPAT Application Form
In the next tab, some blanks will be auto-filled with the details provided during registration. Fill the rest of the blanks with more details regarding category and nationality.
Select 'GPAT 2019' as the exam you want to apply for and choose four exam cities in the order of preference. Candidates will be allotted GPAT 2019 exam centres according to these selections.
Fill your qualification, pass status, name of exam and university, year of passing/ appearing, result mode and marks.
Enter the case-sensitive security pin and click on 'Submit'.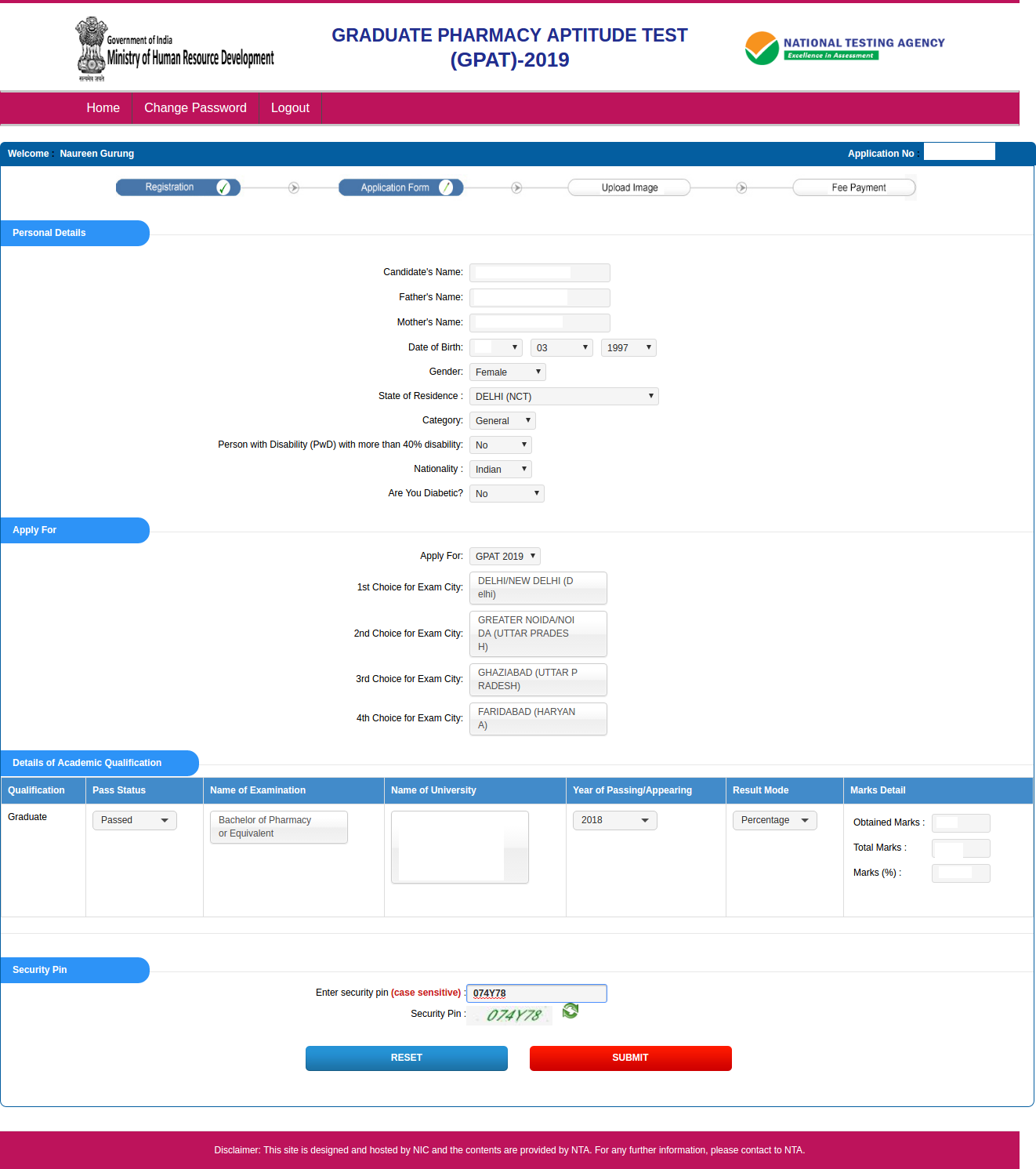 Review the filled up information and tick mark the verification parameters accordingly.
Check on 'I agree' and click on 'Final Submit'. Those who are not satisfied with the information they had provided, can click on 'Edit Application Form data'.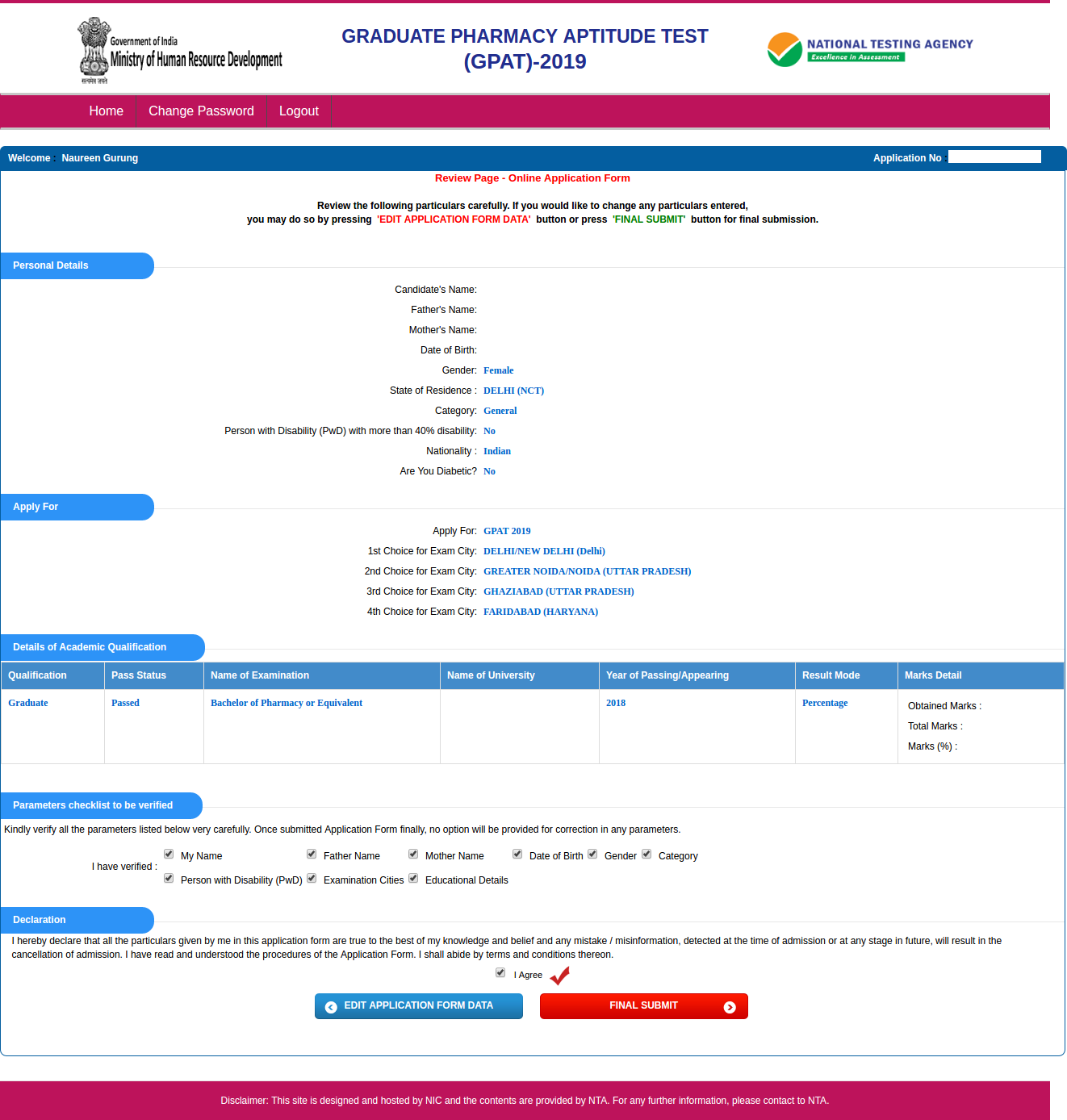 Again, a window displaying your application number will be displayed, prompting that you have completed Step 2 of the application form. Click on 'Edit Application Form' to go back to rectifying your form or 'Upload Images' to proceed.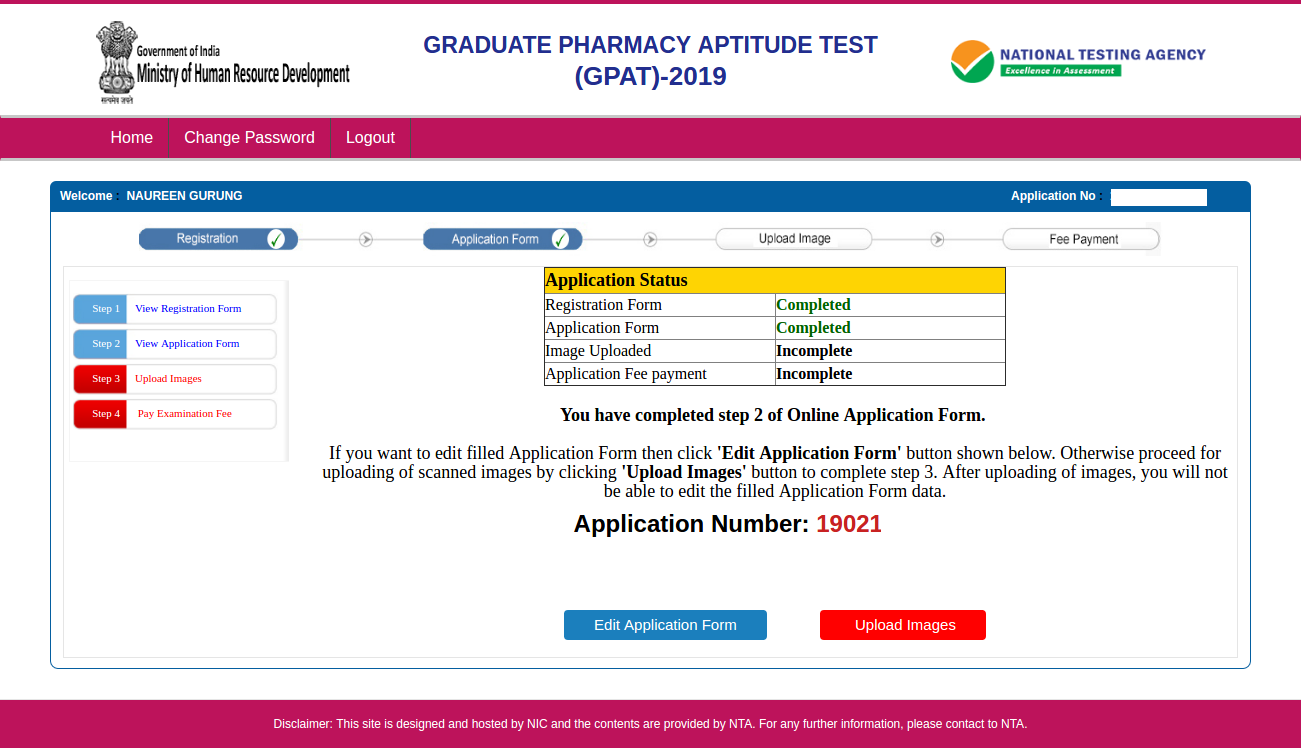 Step 3- Upload Scanned Files
Upload your photograph according to the specifications mentioned onscreen. The photograph can be either coloured or black and white (with clear contrast and sharpness). The file size should be between 10 KB- 200 KB. The file format should be JPG/ JPEG.
Upload a scanned copy of your signature. The size should be between 4 KB- 30 KB and format should be JPG/ JPEG.
It must be ensured that correct images are uploaded in the right size and format.
Enter the security pin, check-mark the box next to the declaration and click on 'Upload'.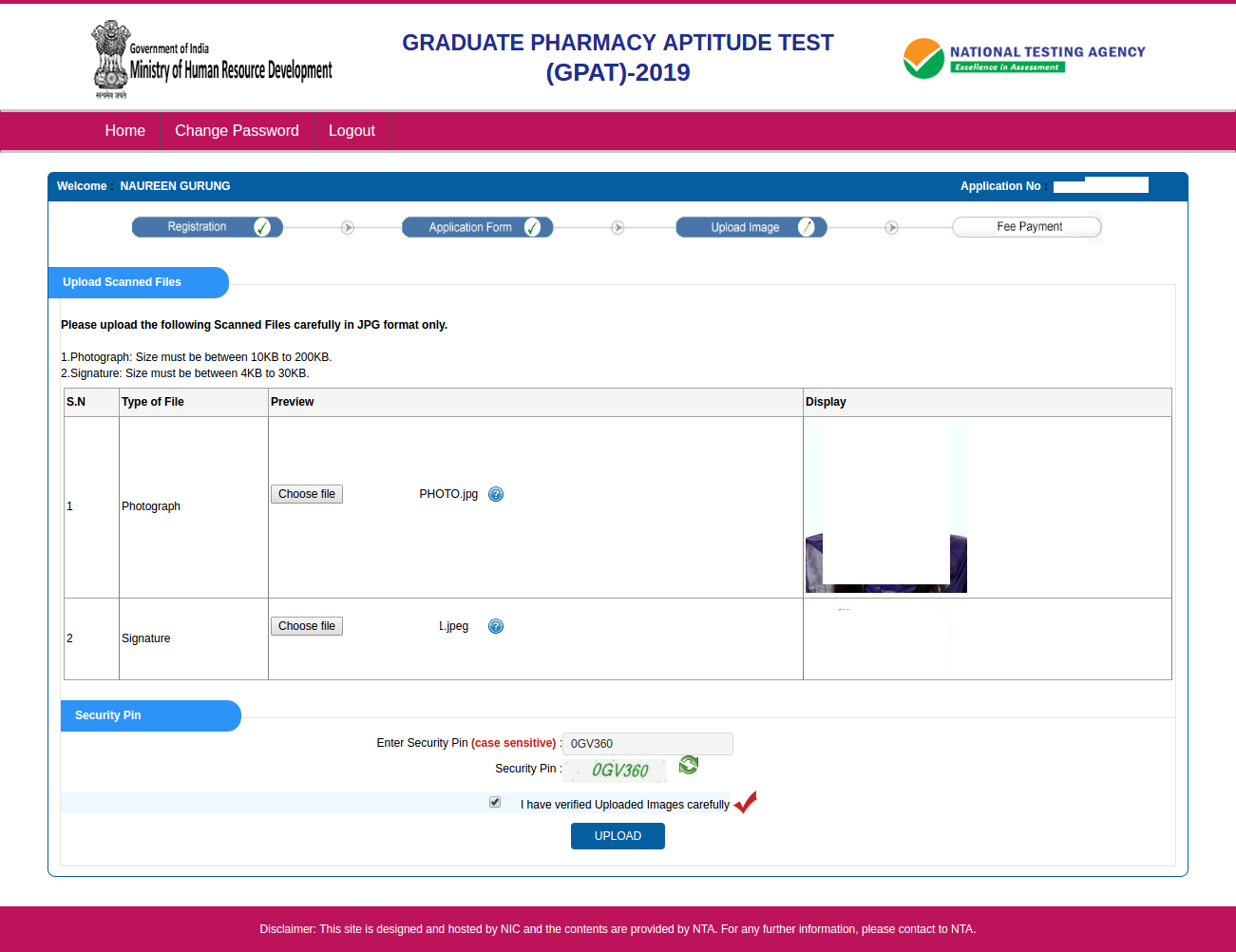 A window indicating the completion of Step 3 will be displayed along with the amount of application fee you are required to pay (as per your category).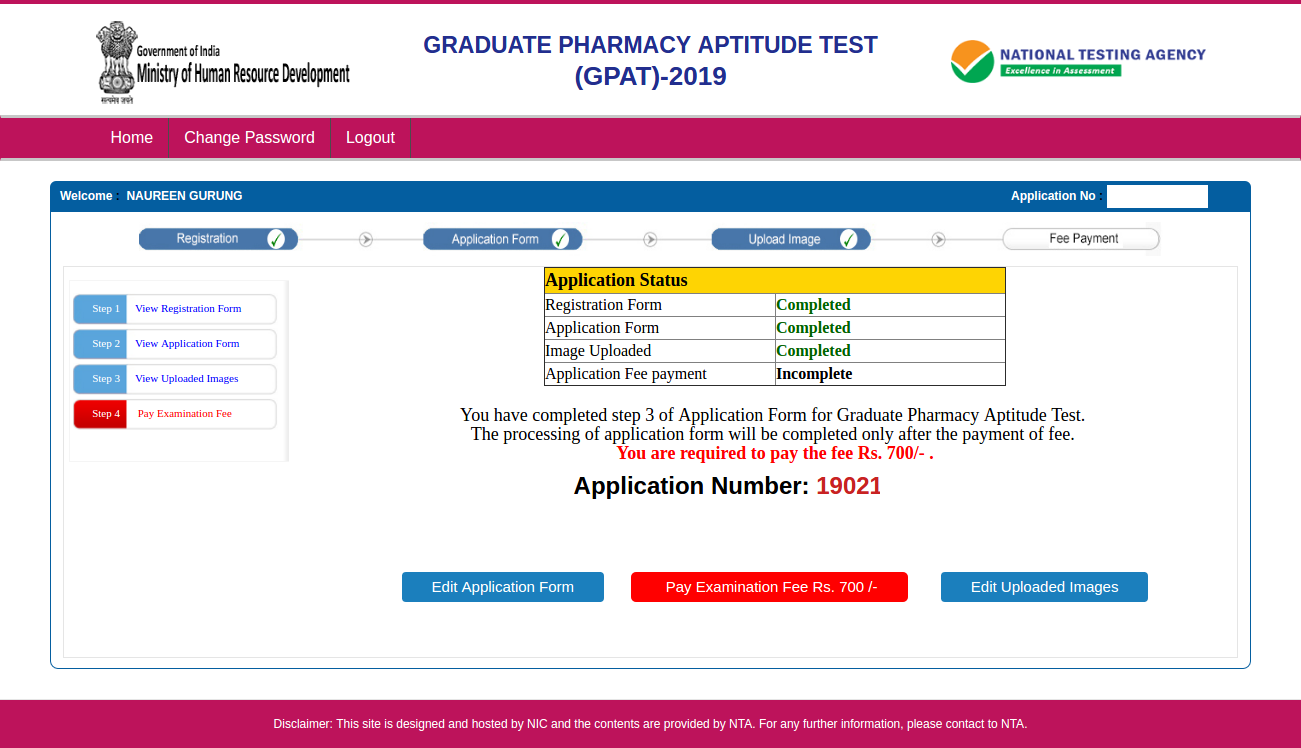 Three options will be displayed at the end of the screen- 'Edit Application Form', 'Pay Examination Fee' and 'Edit Uploaded Images'. Candidates can click on either one depending on their application status.
Step 4- Fee Payment
Candidates will be required to pay the requisite fee through online mode (Debit/ Credit Card/ Net Banking/ e-Challan).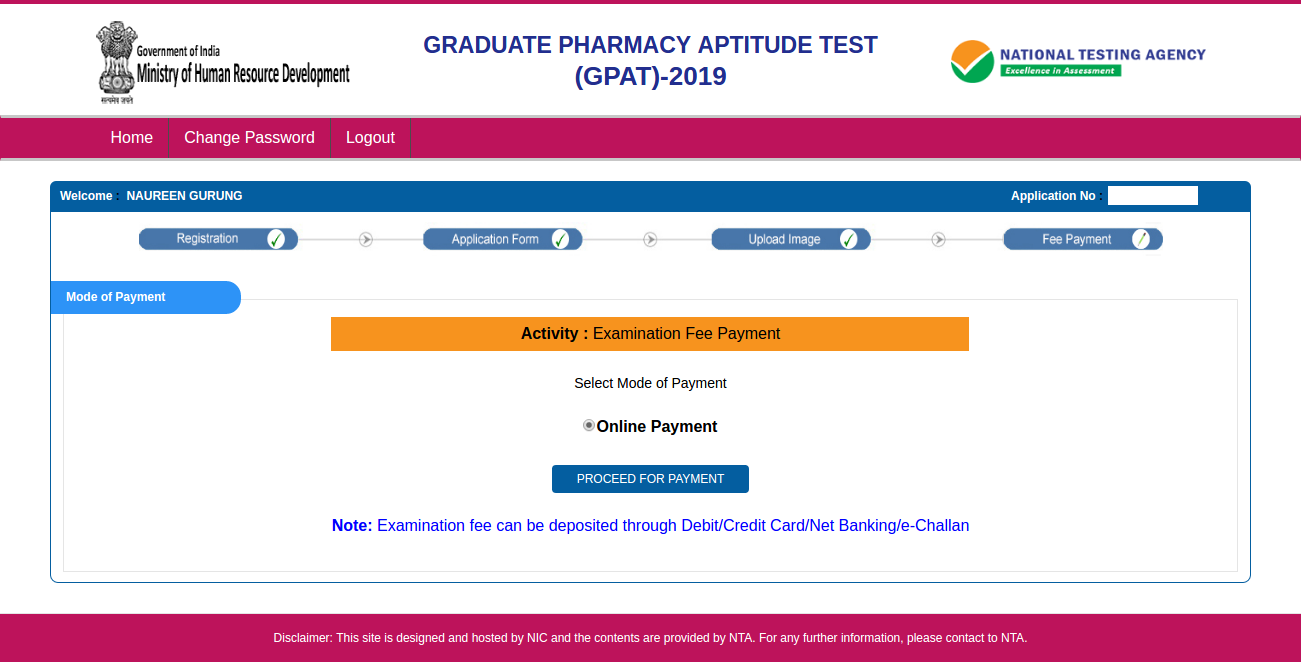 After selecting SBI MOPS as the payment provider, click on 'Proceed for payment'.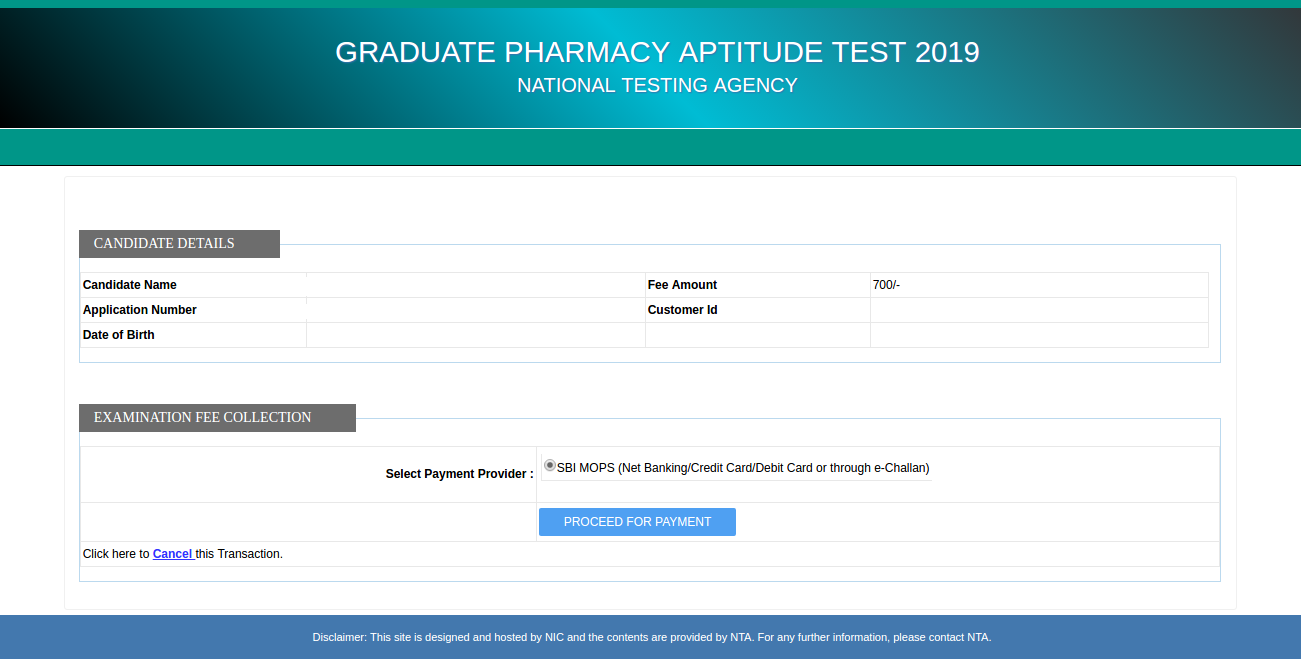 Next, choose the mode of payment.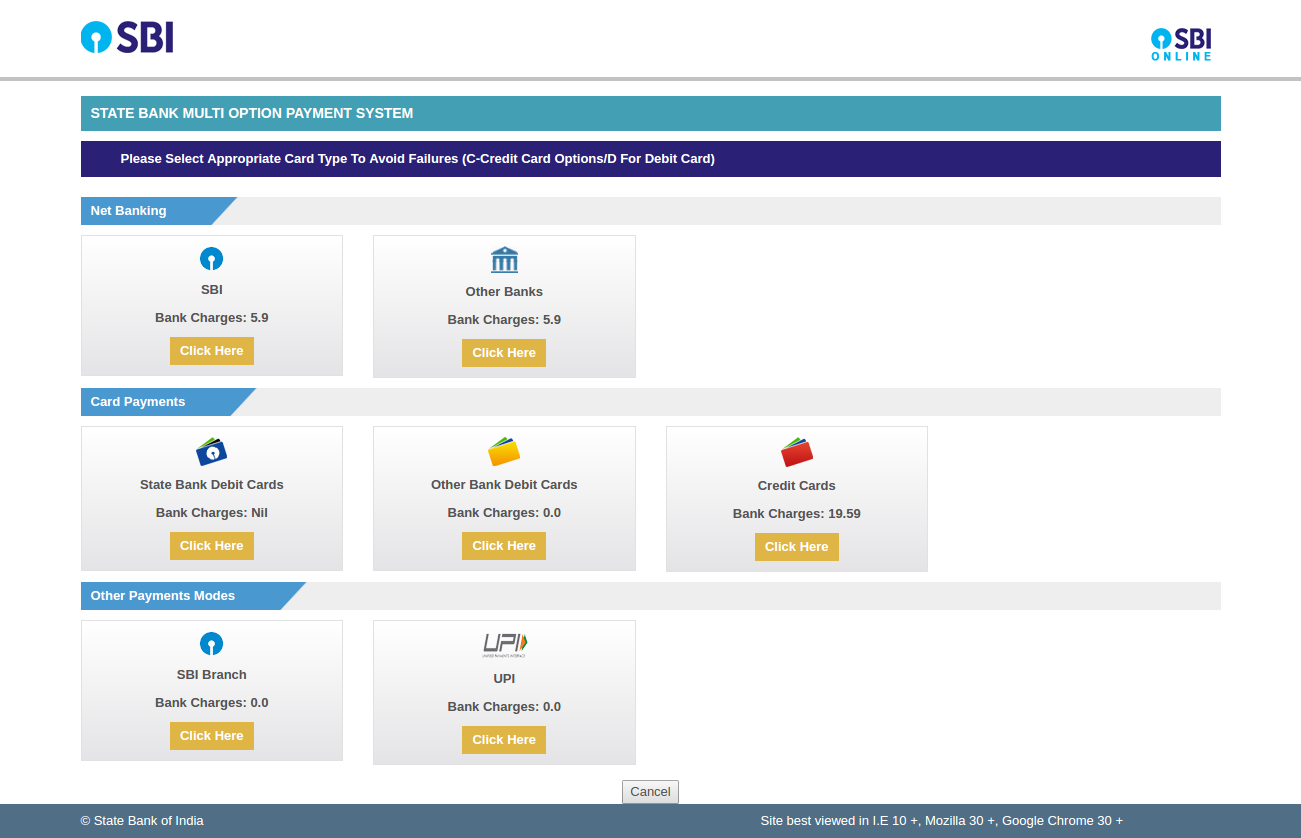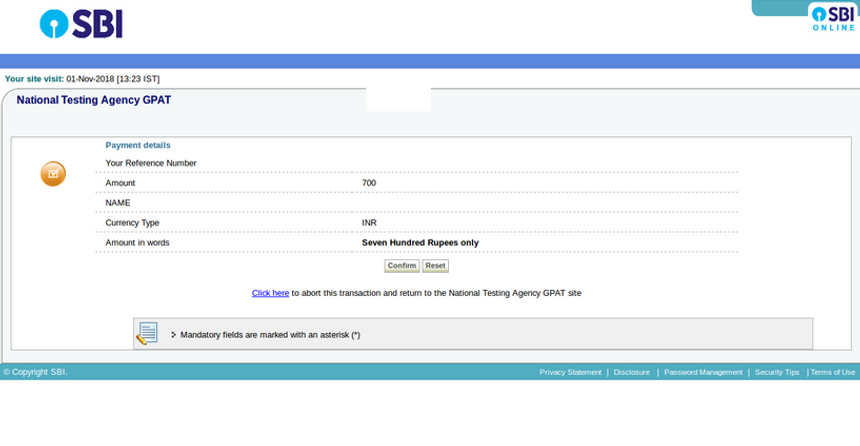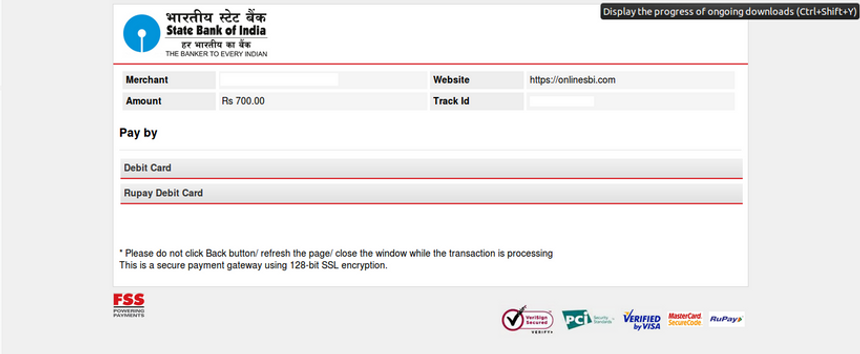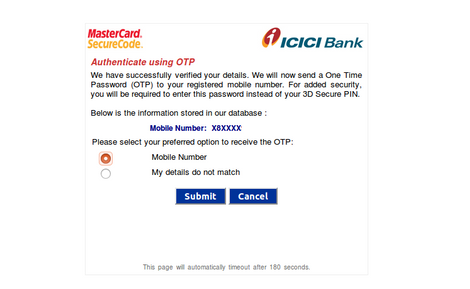 Pay the application fee of GPAT 2019. The amount of application fee for different categories is as follows:
GPAT Application Fee 2019
Categories

Male

Female

General/ Non-creamy layer OBC

Rs 1400

Rs 700

SC/ST/PwD

Rs 700

Rs 700

Transgender

Rs 700
Finally, a window intimating the completion of the application process will be displayed. Now, you will be able to download the 'Confirmation Page'. In case, a candidate is not able to download his/ her confirmation page, it implies that his/ her application form or payment is incomplete.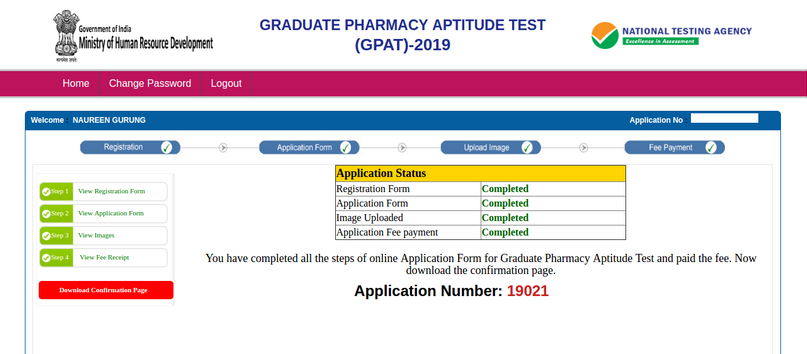 FAQs related to GPAT Application Form 2019
Question- After submission of GPAT 2019 registration fee, can a candidate cancel his/her application and apply for fee refund?
Answer- Cancellation of application and refund of fee will not be allowed under any circumstances.
Question- Can a candidate make any changes to the postal address after he/she has submitted the GPAT application form 2019?
Answer- No, once a candidate has submitted the application form, there is no way to change the information.
Question- Which are the acceptable testing devices that can be used/brought to the test centre?
Answer- The approved means of testing assistance that may be selected on the GPAT application form 2019 are as follows:
| | | |
| --- | --- | --- |
| Testing Assistance  | Applicable for  | Arranged by  |
| Abacus (without a calculator) | Visually Impaired  | Candidate  |
| Hearing Aid  | Hearing Impairment  | Candidate  |
| Wheel Chair  | Locomotor Disability/Cerebral Palsy  | Candidate  |
| Screen/Font Magnification  | Visually Impaired  | Test centre  |
| Scribe/Reader  | Visually Impaired/Cerebral Palsy  | Candidate/Test centre* |
* Provided at the test centre only on the prior request. These are subject to the new guidelines to be issued by NTA.