GPAT Study Material 2023 - Download GPAT Previous Year Question Papers PDFs
GPAT Study Material 2023: The National Testing Agency (NTA) will conduct the Graduate Pharmacy Aptitude Test (GPAT) 2023 in the computer-based mode. Aspirants who are planning to apply for the entrance examination must go through the study material religiously in order to affirm success in the GPAT exam. The study material for the GPAT 2023 includes the best books, mock tests, and sample papers.
Stay up-to date with GPAT News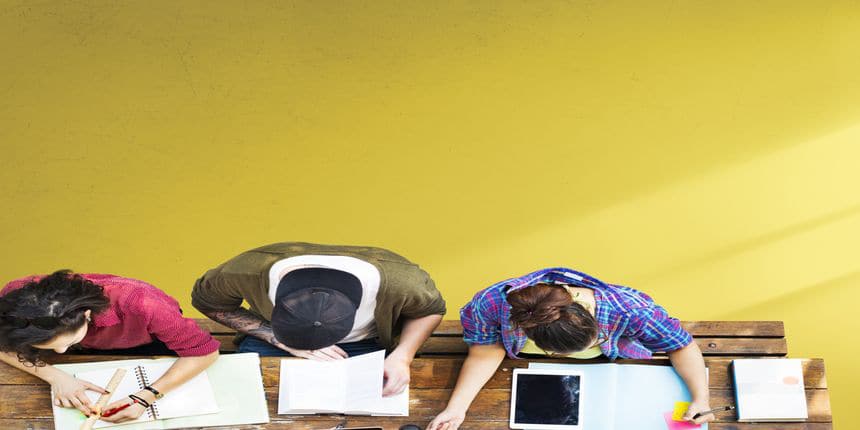 Aspirants are highly advised to understand the exam pattern before starting with GPAT 2023 study material. The chances of scoring better in the entrance examination depend upon the books, and GPAT study materials referred to by the aspirants. Therefore, the importance of the correct study material is extremely high. GPAT exam will be conducted for admission to Masters in Pharmacy (M.Pharm) seats offered by more than 800 GPAT participating institutes. Read the article below for more details regarding GPAT 2023 study material.
Before going through the study material, it is important that aspirants will first understand the exam pattern thoroughly. The exam pattern of GPAT 2023 is mentioned in the table below.
GPAT 2023 Exam Pattern
Particulars

Details

Mode of exam

Computer-based mode

Maximum Marks

500

Type of questions

Multiple Choice Questions (MCQs)

Exam duration

3 hours

Number of questions

125 questions

Marking scheme

+4 for every correct answer
-1 for every wrong answer

GPAT 2023 Study Material
To score better in the exam, aspirants can refer to the list of the best study material of GPAT 2023. The study material specifies the most asked questions, as well as, the topics that aspirants must focus on. In order to make the chances stronger of cracking the examination, and to get an edge over others, aspirants must choose the right GPAT 2023 study material for effective preparation.
Popular Online Pharmacy Courses and Certifications:
GPAT 2023 Best Books
Choosing the best books for GPAT 2023 is as important as the syllabus. Therefore, below are the subject-wise best books of GPAT 2023 to be referred for the aspirants appearing for the M Pharm entrance test. Aspirants are also advised to be updated with the syllabus and then prepare for the exam in order to avoid any confusion.
Best Books For GPAT
Subject

Name of the Book and Author

Publisher

Pharmaceutical Analysis

The Science and Practice of Pharmacy by Joseph P. Remington

Pharmaceutical Press

Health Education & Community Pharmacy: For First Year Diploma by N. S. Parmar

-

Pharmaceutics

GPAT: A Companion by Nazma N. Inamdar

Career Publications

Pharmaceutics: The Science of Dosage Form Design by Michael E. Aulton

Churchill Livingstone

Pharmacognosy

Text Book of Pharmacognosy by Dr. C.K. Kokate

Nirali Prakashan

The Pearson Guide to GPAT and Other Entrance Examination in Pharmacy by Akaberi Shah Baser

Pearson Education

Chemistry

Organic Chemistry by Morison and Boyd

Prentice Hall PTR

Physical Chemistry by Dr. R.R. Misra

-

Biochemistry

Biochemistry by A.L. Lehninger

Kalyani Publishers

Biochemistry by Satyanarayana

Elsevier India

Pharmacology

Pharmacological Basis of Therapeutics by Goodman and Gilman

McGraw-Hill

Basic and Clinical Pharmacology by Katzung

McGraw-Hill
Aspirants are advised to go through the previous year's GPAT question papers to get an idea about what type of questions they can expect in the exam. Also, practicing the previous years' question paper will enable students to sharpen their time management for GPAT 2022. Listed below are some previous year's question papers that aspirants can practice.
4 min read
Mar 05, 2022
Read More
5 min read
Mar 05, 2022
Read More
Previous year's GPAT Question Papers
It is crucial to be completely aware of the syllabus before beginning the preparations. GPAT syllabus 2023 carries topics that are asked in the entrance examination. All the subjects included in the syllabus of GPAT 2023 are mentioned in the points below.
Pharmacology

Biopharmaceutics and Pharmacokinetics

Biotechnology

Pathophysiology

Physical Chemistry

Physical Pharmacy

Organic Chemistry

Dispensing and Hospital Pharmacy

Microbiology

Pharmacognosy

Human Anatomy and Physiology

Pharmaceutical Analysis

Clinical Pharmacy and Therapeutics

Pharmaceutical Chemistry

Pharmaceutical Jurisprudence

Pharmaceutical Management

Pharmaceutics

Pharmaceutical Engineering

Biochemistry
Student Also Liked:
Frequently Asked Question (FAQs) - GPAT Study Material 2023 - Download GPAT Previous Year Question Papers PDFs
Question: Who conducts GPAT 2023?
Answer:
The National Testing Agency conducts the entrance exam for GPAT.
Question: What is the GPAT 2023 score?
Answer:
The marks obtained by a candidate in GPAT 2023 exam is termed as GPAT score.
Question: How do I prepare for GPAT 2023?
Question: Where I can find the previous year question papers for GPAT 2023?
Answer:
The previous year question papers of GPAT is mentioned in the article above.
Question: What is the syllabus of GPAT 2023?
Answer:
Topics like physical chemistry, pharmacognosy, organic chemistry, etc covered under the GPAT syllabus must be studied while preparing for the exam.
Questions related to GPAT
Showing 429 out of 429 Questions