Campus Life at Vikas College of Pharmaceutical Sciences: Thakur Megha Speaks About Her Experience
Campus Life at Vikas College of Pharmaceutical Sciences: Thakur Megha Speaks About Her Experience - "College inspired me to think differently. It's like no other time in your life." A beautiful reference to college life by an American actress, Lari Oleynik, is somehow related to the graduation life of a girl from Telangana. Thakur Megha, who has completed her Doctorate of Pharmacy (Pharm.D) degree. She completed her college education from VIkas College of Pharmaceutical Sciences, Hyderabad. The daughter of a real estate agent and a restaurant owner, Thakur Megha advises future students to choose the college wisely which should be attached with at least 1000 bed hospitals. When asked about her college infrastructure, Megha shared that the infrastructure of Vikas College of Pharmaceutical Sciences, Hyderabad, is awesome and cannot be compared with any other college of the city.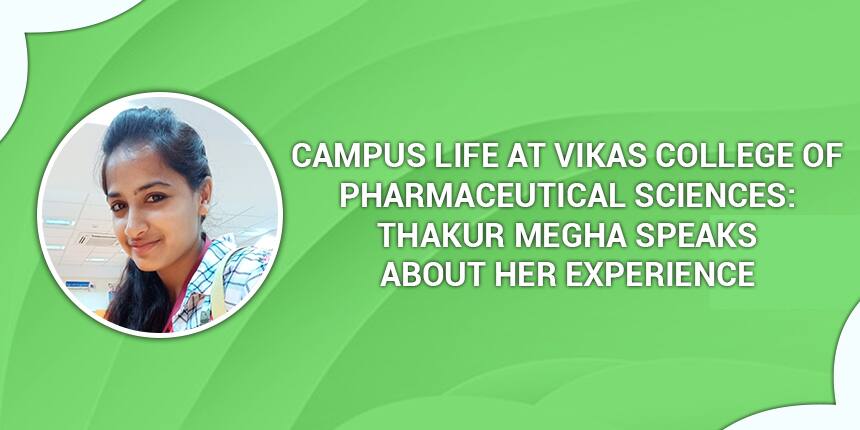 Along with the infrastructure, Thakur Meghna has also shared her first day experience with faculty members and seniors in campus life, hostel facilities, ragging issues, lesson learnt, hangouts nearby, campus placement and other details. Read the full campus interview of Thakur Megha sharing her college life experience below.
Careers360: Tell us something about you and personal life like where you belong to, schooling, parent's occupation.
Thakur Megha: I am Thakur Megha and I am a Pharm.D. intern in Kamineni Hospital, Narketpally, Nalgonda district, Telangana. I stay with my family including my mother, father and an elder brother. My father works in real estates and has a small restaurant, while my brother is studying Bachelor in Architecture (B.Arch) from Jawaharlal Nehru Architecture and Fine Arts University (JNAFAU), Hyderabad. I did my schooling from St.Ann's Grammar High School, Hyderabad, and completed my Class 12 from Sri Gayatri Educational Institutions.
Careers360: Which college are you from and in which year?
Thakur Megha: As I mentioned above. I have completed PharmD from Vikas College of Pharmaceutical Sciences, Rayanigudem, Suryapet, Telangana.
Careers360: How was your first day in college? Please share your experience, hiccups faced in the initial days. How do your faculty members and seniors support you?
Thakur Megha: My first day at Vikas College of Pharmaceutical Sciences, Hyderabad started with an orientation, where I was given a brief introduction to my course, faculty members and friends. First day at college gave me that panic sort of thing as I had the language problem. I knew two languages, one was my mother tongue Hindi and English. However, people in my Pharmaceutical college speak Telugu mostly. Since, language is the main source of communication and expression for a human being. Being a fresher I was really nervous. Later, I started watching Telugu movies, listening to Telugu songs, used to read Telugu newspapers and used to communicate in Telugu with the lab technicians and friends, which helped me a lot in learning a new language.
It was new for me to stay in a hostel, while at that time I had no idea how to wash clothes, how to make plates in hair and other activities. I used to miss my mom so much. It took me almost a month to get adjusted to the new environment. I got admission into another hostel because the previous hostel's food was so bad. I took leave for a month, made myself strong and started going to join the college again. Lecturers were so student-friendly and they used to solve not only the subject related problems but also personal problems of students. I would be so thankful to those lecturers of my first year throughout my life. Because of their support and motivation I was able to survive in that unknown environment by going out of my comfort zone.
Seniors were there to guide and provide subject related help but at the cost of writing their records and doing their small works. Those all were common during campus life of Vikas College of Pharmaceutical Sciences, Hyderabad and slowly I survived and was feeling better .
Careers360: Is there something one needs to do on the first day of the college?
Thakur Megha: On the first day of campus life, we should observe each and everyone. We should try to know the names and subjects of lecturers. Also, try to know the rules and regulations of that college so that we do not get punished for breaking any rules in the initial days itself. The most important point, do not commit to friendships on the first day itself, because we should choose friends wisely as we will be going to spend the six years of our life with their friends so just be an observer on day one.
Careers360: How good is the infrastructure of the college including premises, hostel, mess, laboratories, classrooms and all?
Thakur Megha: Infrastructure of the college was good and the premises were awesome. I can not even compare it with any other Hyderabad colleges. But Vikas College of Pharmaceutical Sciences, Hyderabad has its own flavour and reputation in Telangana. Our college was in between the farming fields surrounded by greenery in all directions. Laboratories had all equipment and chemicals, friendly lab technicians, they became our family until we reached the end of our first year. The classrooms were good, while the library was so huge with so many books, magazines and newspapers of different languages used to be available so that every student can read no matter if they come from any part of India.Hostel was good but the food was very spicy. As we know South Indian food is spicy and I was not habitual to spicy foods at that time.
Careers360: Does the infrastructure of a college affect a student's life?
Thakur Megha: Yes, infrastructure does affect a student's life. A good infrastructure gives positive vibes and comfort so that students can concentrate better on studies. If infrastructure is not good students won't concentrate better on studies and might end up complaining about everything.
Careers360: How good is a life in government college and a private college comparing all the aspects of studies, infrastructure, faculties and more?
Thakur Megha: Nowadays, both government and private colleges have similar facilities and infrastructure. The only thing lacking in government colleges is discipline, some students behave inappropriately and college faculty as well as staff members cannot do anything about it. Whereas, private colleges will be so strict in every aspect and also take strict actions if anyone does anything inappropriately. Apart from this both government colleges and private colleges are best to study in the Telangana state.
Careers360: What important lessons do you learn in college?
Thakur Megha: Here are some of the most important lessons I have learned during my campus life:
Be wise while choosing your friends, because they will have a huge impact on your life, time, decisions and also your mental health. If you stay in a hostel, then your friends circle should be good and they should always be encouraging and happy to see you grow and learn, they should be able to take care of you as a family when you are sick or not well.

I've learned the importance of family, money, food and also how important discipline is in one's life .

Not everyone will think good for you or not every friend is your real friend.

Stay away from toxic people who consume your time and energy and leave you drained and filled with negative thoughts.

Do not complain instead take action and be the creator of facilities.

No matter how good you are with people, you always end up being a villain in someone's story, so live your life the way you want.

Parent's bring us into this world but our friends teach us how to live in this world.

Follow your passion that will only give you food one day.

Do not compare yourself with anyone because every human is unique.

Be positive and always think that everything happens for a reason.
Careers360: How prevalent is ragging in Vikas College of Pharmaceutical Sciences, Hyderabad and how do authorities take care of it?
Thakur Megha: Ragging was prohibited in our college, but even though my seniors used to manage to pull our legs and bother us upto some extent, which was fine. It was similar to interaction. And our college authorities were so strict towards ragging and used to take strict action if anyone does ragging.
Careers360: Why did you opt this college? Is this college upto your expectations?
Thakur Megha: I got admission in Vikas College of Pharmaceutical Sciences, Hyderabad through online counselling. I was so disappointed when I got admission in Vikas College of Pharmaceutical Sciences. I was disappointed because I have to leave home and stay away from my parents, whereas this college was a very good place to learn and grow and pursue our goals and passion.
Careers360: Describe facilities at the campus in brief? What do you like the most here? What is the most unique and differentiating feature here?
Thakur Megha: The most unique and differentiating feature in my college is it's situated away from the city crowd, in a peaceful environment, surrounded by greenery everywhere, and close to nature.
Careers360: How do you maintain balance in exams, projects, studies and other activities?
Thakur Megha: I used to listen to classes with full concentration. I was a regular student and used to ask so many doubts. I never sat and read from books. Instead, I wrote exams by just listening to classes. I used to learn mostly from practical experiments and try to explain to other friends and in that process I used to get revisions for what I have learned. I do not like writing much or making notes, so I used to record the classes or record my own voice and used to listen to it repeatedly, as I used to learn more efficiently through listening.
I balanced between exams, projects and other activities every time. I used to complete studying in the class itself and never left any opportunity to enjoy during college fests and extra curricular activities. I was the active participant in all games and college programs and also 1st or 2nd topper in every academic year. All this was possible due to proper time management, self motivation and interest in my course.
Careers360: What are the popular hangouts of the college? What do you think are the most visited places nearby?
Thakur Megha: The most popular hangouts around Vikas College of Engineering, Hyderabad are the Dhabas in remote places. The famous one was Shri Prasad, where I love to sit and have a cup of ginger tea after a hectic day. Apart from this, there was a 7 Star restaurant, Dominos, Cafe Coffee Day, Subway, and some bakeries around. Reliance Trends and Karnati Brothers were our frequent shopping places and Saddal Cheruvu (Choudary lake) was our frequent place to visit with friends where we gang of friends used to enjoy the sunset, water and nature's beauty.
Careers360: In which hospitals or feild your college students get hired into?
Thakur Megha: Our college students get hired into many National Accreditation Board for Hospitals and Healthcare (NABH) accredited hospitals of Hyderabad, Mumbai, Pune and some went abroad for higher studies. Some get into Pharmacovigilance, Clinical Research, Clinical Data Management, Epidemiology, Health Outcome Research and Clinical Pharmacists. Our college students got placed in many companies like Bioclinica, KS Bioclinserve, Zenrise, Global Data Research Centre, Accenture, IQVIA among others.
Careers360: What are your future plans and any advice to other students searching for better colleges?
Thakur Megha: I want to become the most successful woman, and if possible want to reach till the position of CEO of a healthcare company or an IT company.
I would like to advise other students that nothing is easy in this educational field, choose your college wisely, see for a college which is attached to a good hospital with at least 1000 beds. If you even get disappointed like me in the beginning, do not worry your life is in your hands so take action and change the way you think about your college and your life. Be positive and do extreme hardword after getting placed in a good job. Each and every rupee should be earned with honesty, never try to cheat in exams because you are never going to learn anything through cheating. Do not hurt anyone knowingly in college because you never know when you will need help from that person in future or you might need them in your work field and try to be polite with everyone.
Also Read: