Pharmacy is a rare field of medicine/science that requires close interactions with people to earn their trust as you work towards improving their health. After completing their B. Pharmacy, some aspirants will be confused about what to do next.
After completing Bachelor's in Pharmacy, there are various options for higher education and career-wise. Some of India's most popular entrance exams for M. Pharmacy admission are GPAT, NIPER JEE, CUCET, CEE AMPAI, etc. Pharmacy aspirants can even attempt TOEFL, GRE, IELTS, etc. if they wish to get employed overseas.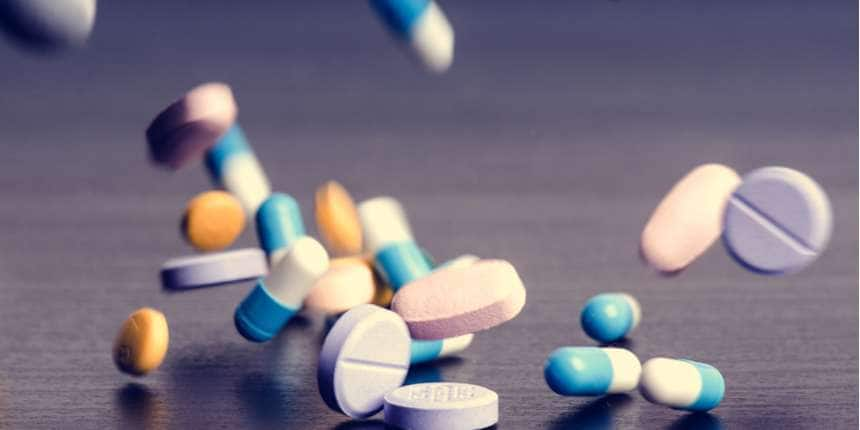 What after B. Pharmacy? - Best Courses, Govt and Private Jobs, Career
With a range of lucrative Pharmacy career options, B. Pharmacy degree holders can also get employed in the private or government sector as pharmacists, drug inspectors, food inspectors, medical underwriters, or even open a drugstore. Aspirants seeking more information on what jobs after B Pharma can read on to find out what options in terms of career and higher education are in store for a B. Pharmacy graduate.
Popular Online Pharmacy Courses and Certifications :
All About B. Pharmacy
Bachelor in Pharmacy is a 4-year undergraduate program in the field of Pharmacy that deals with health and chemical science. Throughout the B. Pharma program, students are introduced to various medicines and drugs and their uses and effects/side effects. To be eligible for B. Pharma, a student must pass the class 12 (with Physics, Chemistry, and Mathematics) board exam. The minimum requirement of marks varies for different Pharmacy institutes.
What after B. Pharmacy?
Aspirants can go through the below-mentioned table to know the details on what is next after completing B. Pharmacy.
Options after B.Pharmacy
| | |
| --- | --- |
| Sl. No. | Details |
| 1 | Higher education |
| 2 | Career options after B.Pharmacy |
| 3 | Self-employment/ Business prospects |

Higher Education- M. Pharmacy, Pharm. D.
As the quest for knowledge always goes on, opting to pursue a Master's in Pharmacy is the best option for those seeking higher education. Especially for Pharmacy aspirants who wish to have a career in research and development, pursuing M. Pharmacy will increase their expertise and credibility. Some of the most popular institutes providing M. Pharmacy admission are KLE College of Pharmacy (Hubli), Government College of Pharmacy (Bangalore), Madras Medical College (Chennai), etc. These colleges accept scores of entrance tests like GPAT, KLEU AIET, NIPER JEE, etc. The M. Pharmacy eligibility in most institutes also requires a minimum average of 50% in the final year exam of B. Pharmacy.
A professional doctorate course in Pharmacy, Doctor of Pharmacy (Pharm. D), consists of 5 years of academic society and one year of internship. The course trains students in pharmacy practice, clinical pharmacy, and pharmaceutical care. Some of the institutes in India that provide admission in Pharm. D. are Jamia Hamdard University (New Delhi), National Institute of Pharmaceutical Education and Research (Mohali), KLE College of Pharmacy (Hubli), etc. Candidates who complete Pharm. D programme can get recruited at health centres, medical dispensing stores, drug control administration, research, etc.
Colleges offering Pharmacy Courses
| | | | |
| --- | --- | --- | --- |
| S. No. | College Name | City | Annual Fees |
| 1 | | New Delhi | Rs. 88,000 |
| 2 | | Mohali, Punjab | Rs. 1,36,000 |
| 3 | | Hubli | Rs. 1,21,000 |
| 4 | | Manipal | Rs. 95,000 |
| 5 | | Mysore | Rs. 70,000 |
| 6 | | Madhya Pradesh | Rs. 57,550 |
| 7 | | Ranchi | Rs. 2,00,000 |
| 8 | | New Delhi | Rs. 21,000 |
| 9 | | Mumbai | Rs. 22,500 |
| 10 | University College of Pharmaceutical Sci, Kakatiya University | Warangal | Rs. 1,10,000 |
In India, Pharmacy graduates have various job options to go for. Pharmacy, as a field, is well-reputed and reliable and aspirants can avail promising job options with an excellent salary package. For detailed information about jobs after pharmacy in the government and private sector, check the list below:
Pharmacy Career Options in the Government Sector
Pharmacist: Central government hospitals like AIIMS employ qualified pharmacists at high salary packages on a permanent basis. However, pharmacists employed on a contract basis by the state government are not able to earn much. A pharmacist should be social and amiable as the link between a doctor and their patients. A pharmacist should know about the dispensing of drugs as per prescription and managing store records, inventory, etc. Most pharmacists employed by the central government earn about Rs. 45,000-56,000 per month. On the other hand, those employed under the state government or on a contract basis earn as low as Rs. 12,000 per month.

Drug Inspector: A drug inspector monitors the safety, utility, and quality of drugs from manufacturing until their sale. For a competent drug inspector, qualities like patience and self-confidence are essential. Combining various salts and performing tests accordingly to know the utility and effects of the combinations. Various competitive exams are conducted all over India to select potential candidates. Some states also require the candidate to be well-versed in the local languages. The salary of a drug inspector ranges from Rs. 55,000-65,000 per month.
Pharmacy Career Options in the Private Sector
Production and Quality Control:

Pharmaceutical and medical devices production/ manufacturing units recruit B. Pharmacy graduates to supervise the daily operations and quality of formulations. Initially, the salary is low, so it is best to increase your academic qualification if you wish to enter this sector with a high package. However, if a B. Pharmacy degree holder is efficient enough, they may get an increment after 4-5 years. The salary varies from Rs. 8,000-20,000 per month depending on their skills and the company hiring them.

Pharmaceutical Marketing:

B. Pharmacy degree holders can get employed as Medical Representatives (MR) in marketing pharmaceutical products and medical devices by small or big firms and MNCs. The work may be taxing for a beginner, but the work pressure may decrease as one gets established due to communication skills and knowledge. The salary of a medical representative ranges from Rs. 18,000-35,000, depending on their calibre.

Medical Underwriting:

An unconventional but advantageous Pharmacy career option, aspirants can start by working for a small company and look for better opportunities in bigger establishments. B. Pharmacy qualifiers may be recruited as medical scribes, medical coders, or medical transcription and may also be required to write medical-related documents, etc. The salary for such Pharmacy job profiles may start from Rs. 10,000, and with apt experience, it may increase to Rs. 40,000 per month.
Self

Employment/ Business Prospects

Drug Store owner: Those who feel they have the perseverance and will to work hard at odd hours can start their drug store. Various aspects like the shop's location, opening, and closing time, etc., determine the owner's income.
Wholesaler: Supplying medicines wholesale is also a suitable option if you can establish good relations with medical shop/ drug store owners.

Pharmaceutical Company: Those who dream big of establishing their brand name can set up their manufacturing or marketing unit.
Student Also Liked: