D. Pharm or B. Pharma? Which is better?
Being the 'pharmacy' among the developing countries, there is no doubt that the pharmacy sector will continue to flourish for a very long time. As the Indian manufactured medicines are affordable and effective, more and more developing countries are opting for them. This has raised the requirement for qualified professionals in the field of pharmacy which, in turn, has increased the demand for pharmacy courses among students. Students who want to delve deeper into this rare field of studying science/ medicine as well as meeting and interacting with new people every day, opting for a course in pharmacy is a must. However, with a lot on the platter, students are often baffled with the question, "D.Pharm or B.Pharma? Which is better?". While both the courses have their pros and cons, it is best to understand them in detail before rushing into the decision. Read on to find out which is better- D.Pharm or B.Pharma?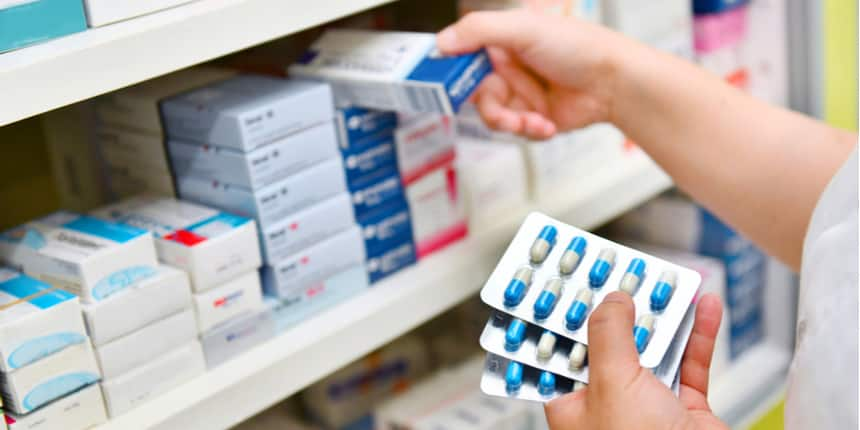 What is Pharmacy?
The science and practice of preparing and dispensing medicines/ drugs is known as pharmacy. It involves ensuring the safe and effective use of pharmaceutical drugs. 
Pharmacists are medication experts, immunizers, educators and friends- all in one! They should not just be qualified in their professional role but should also possess good communication skills to maintain amicable relationships with their patients. 
Before deciding which one is a better option between D.Pharm and B.Pharma, it is essential to understand the definition of the two. Let us find out the time duration and curriculum of D.Pharm and B.Pharma.
What is D.Pharm?
Diploma in Pharmacy (D.Pharm) is a career-oriented, 2-year long diploma course that aims to prepare candidates to work under a licensed pharmacist in hospitals, pharmacies, etc. Candidates are trained in accurate and safe processing of prescriptions, pharmacy software practice, third-party billing, compounding techniques, inventory control, verbal and written communication, etc. Along with having the uses and effects of drugs, etc. on their fingertips, D.Pharm candidates should also be well-versed in industry ethics as well. 
What is B.Pharma?
Bachelor of Pharmacy (B.Pharma) is a 4-year undergraduate degree course, a prerequisite for those who wish to practice pharmacy. B.Pharma candidates learn about the preparation and distribution of medicinal drugs that can cure illnesses and diseases. In B.Pharma, candidates learn about the chemical and organic properties of all the ingredients used while synthesizing these medicines. After completing B.Pharma, some of the available job roles include that of pharmacists, drug inspectors, medical underwriters, drug store owners, wholesalers, etc. 
D.Pharm V/S B.Pharma- A tabular comparison
Particulars

Diploma in Pharmacy (D.Pharm)

Bachelor of Pharmacy (B.Pharma) 

Subjects covered

Pharmaceutics, Pharmaceutical Chemistry, Pharmacognosy, Biochemistry & Clinical Pathology, Human Anatomy & Physiology, Health Education & community pharmacy, Pharmacology & Toxicology, Pharmaceutical Jurisprudence, Drug store and Business Management, Hospital & Clinical Pharmacy

Pharmaceutical Analysis, Remedial Mathematical Biology, Pharmacognosy, Pharmaceutical Chemistry, Basic Electronics &

Computer Applications, Pharmaceutics, Advanced Mathematics, Anatomy, Physiology & Health

Education, Pharmaceutical Microbiology, Pathophysiology of Common

Diseases, Pharmaceutics, Pharmacology, Pharmaceutical Jurisprudence & Ethics, Pharmaceutical Biotechnology, Pharmaceutical Industrial

Management

Skills required

Candidates are trained to work under a licensed pharmacist so they must be accurate in their work, diplomatic in their attitude and should have the ability to multitask. Pharmacists should also be embedded with good communication and interpersonal skills. 

Depending on the job profile, candidates should have the required knowledge and practical expertise along with good communication, technical, leadership, analytical skills. One should also have a strong hold on their English conversational skills and should also have basic knowledge of MS Office. 

Income

Depending on the candidate's knowledge and skills, the starting income can range from Rs. 10,000-12,000 per month. 

The income of a B.Pharma degree holder also depends on the job profile, hospital/ company one is working for, work experience, etc. Broadly speaking, a candidate can earn around Rs. 30,000-50,000 per month.

Career options

Career options are similar for both D.Pharm and B.Pharma qualifiers. However, preference is given to the latter since it is a degree course. B.Pharma has an edge over D.Pharm in terms of the curriculum. Most of the time, D.Pharm qualifiers are advised to pursue B.Pharma next if they want better employment opportunities. Some of the career options for pharmacy graduates include getting placed as a pharmacist in a government/ private hospital/ pharmacy, drug inspector, medical underwriter, production and quality controller, drug store owner, wholesaler, starting one's own pharmaceutical company, etc. The options are endless!
Top 10 Pharm D Institutes in India
| | | |
| --- | --- | --- |
| College Name | City | Annual Fees |
| | New Delhi | Rs. 88,000 |
| | Mumbai | Rs. 1,78,000 |
| | Mohali, Punjab | Rs. 1,36,000 |
| National Institute of Pharmaceutical Education and Research, Hyderabad | Hyderabad | Rs. 1,30,000 |
| | Ranchi | Rs. 2,00,000 |
| | Hubli | - |
| | Kanchipuram | Rs. 3,02,000 |
| | Chandigarh | Rs. 11,000 |
| | Tamil Nadu | Rs. 25,000 |
| | Manipal | Rs. 95,000 |
Colleges offering Pharmacy Courses
| | | |
| --- | --- | --- |
| College Name | City | Annual Fees |
| Jamia Hamdard University | New Delhi | Rs. 88,000 |
| National Institute of Pharmaceutical Education and Research | Mohali, Punjab | Rs. 1,36,000 |
| Manipal College of Pharmaceutical Sciences | Manipal | Rs. 95,000 |
| KLE College of Pharmacy | Hubli | Rs. 1,21,000 |
| Birla Institute of Technology | Ranchi | Rs. 2,00,000 |
| | Mysore | Rs. 70,000 |
| | Madhya Pradesh | Rs. 57,550 |
| University College of Pharmaceutical Science, Kakatiya University | Warangal | Rs. 1,10,000 |
| | New Delhi | Rs. 21,000 |
| | Mumbai | Rs. 22,500 |